By paulgillin | February 25, 2011 - 1:54 pm - Posted in
Fake News
Wow, that was fast.
Just six months after it was launched as the most ambitious hyperlocal news operation in the US, Washington's TBD has cut expenses deeply and narrowed  its mission to arts and entertainment. One third of the staff – or 12 employees – were let go this week. The apparent chaos at TBD is evidenced by the fact that general manager Bill Lord, who came on board just two weeks ago, said layoffs were only one of several options being contemplated at that time. Owner Allbritton Communications cited low traffic figures as the cause of the cutbacks. Considering that TBD racked up 6 million page views in January, it must have needed a lot of traffic to cover expenses.
The breathtaking speed with which Allbritton reined in the TBD venture shouldn't be lost on other hyperlocal publishers. Alan Mutter sums up the difficulties that all such organizations face:
Small audiences are difficult to monetize in the first place;
Finding and converting advertisers to reach small audiences is expensive;
Advertisers are reluctant to spend a lot of money on online ads in general, particularly when the audiences are small.
Mutter calls AOL's Patch.com, which now encompasses more than 800 hyperlocal sites, the next litmus test for the concept. AOL is reportedly spending $50 million on the venture, but the tone of Mutter's analysis is that that money is probably wasted.
Keep reading, though,  if you want a different perspective. Nearly every one of the 20 or so people who weigh in on Mutter's post disagree with him, some vehemently. They argue that hyperlocal news does work if publishers don't get too greedy. Comment writers include several people who are successfully running the kind of small operations for which Mutter see so little hope.
"Hyperlocal is just a way of expressing the need for news that is more local, closer to the neighborhood or town level, than the metro daily ever could be," notes  Jay Rosen. "And of course it corresponds to a class of advertiser that was priced out of and ill served by the metro daily and TV stations."
Adds Oscar Martinez (left) of NeighborsGo, a successful hyperlocal venture by the Dallas Morning News, "If nothing else, [the Patch.com] effort should be applauded because the competition will remind newspapers that there IS money on the table and, more important, there's still time to go after it."  We interviewed Martinez more than 2 1/2 years ago, and his hyperlocal operation is still alive and kicking.
Our take: Mutter's analysis is accurate, but publishers continue to debate the wrong thing. The issue isn't whether there's enough advertising out to fund a lot of successful hyperlocal ventures; there probably isn't. The solution is in finding other ways to monetize small businesses in the area. We laid out our proposal two years ago, but with the exception of Sacramento Press, a hyperlocal venture that is truly flourishing, we haven't seen a whole lot of interest.
Promoting Newsroom Innovation
Lauren Rabaino picks up on a Twitter chat with Jay Rosen in which the professor said newsrooms need to radically revamp their culture. Rabaino points to a few examples of how tech startups break the mold in interacting with the customers and investors. While her use of the word "awesome" is a bit excessive, her examples aren't.  Why are biographies on news sites so boring? Probably because newspaper cultures have traditionally buried the identities of all but their most prominent columnists. In contrast, tech startups use bio pages to point out that there are real people behind the products. Why not humanize the staff that brings you the news? Chances are they're members of the community, anyway.
There's also an interesting idea about bringing webcams into the workplace, something that text-messaging startup Tatango has reportedly done for its investors (although we can find no evidence of it on Tatango's website). We're not sure if webcams in the newsroom would be very interesting to look at, but the idea of opening up news meetings to the public has always intrigued us. Yes, competitors would be free to watch the action, too, but might the involvement of the community in the news gathering process also give the open newsroom a competitive edge? We've always thought that when it comes to reporting the news, more participation is better than less. Some traditionalists still resist that idea.
In a similar vein, Editor & Publisher has an essay by Neil Greer, CEO and co-founder of ImpactEngine.com, about how to motivate people to innovate. We think the recommendations are mostly management common sense, but they're valid anyway.. T
Miscellany
The Selma (AL) Times-Journal will put up a paywall next Tuesday, becoming the latest in a trickle of small papers to charge for access. It'll cost you $48/year or $4.95/month to get the news, and PayPal is accepted. Print subscribers will get in for free, but only after paying the online fee and then asking for a rebate. The story about the paywall is bylined by Times-Journal news editor Rick Couch, who temporarily abandons journalistic impartiality in failing to explore the controversy around paywalls or the possibility that this could actually be a bad idea.
---
The University of Colorado should eliminate its standalone journalism major in favor of an integrated information science or digital communications program, according to the chancellor of the Boulder campus. If approved, the shutdown of the current journalism school could happen as early as  next year. Chancellor Phil DiStefano isn't calling for journalism education to fade from this earth. Rather, he thinks it should be incorporated more holistically into a liberal arts education and perhaps become a minor concentration. Boulder's Daily Camera presents both sides of the debate, including anxious statements from the current journalism faculty who will be moved, like displaced persons, to other corners of the campus.
---
The Detroit Media Partnership is borrowing an idea from the fast-food industry and offering a $5,000 prize to the person or group who can come up with the best idea "for helping The Detroit News and the Detroit Free Press increase their audiences or better serve the community." Management is taking suggestions now and will hold a public vote in early April. Finalists will pitch their ideas to a panel of judges that includes Domino's Pizza Inc. CEO Patrick Doyle, whose policy of responding to customer complaints about his company's crappy product is credited with turning Domino's around.
---
Detroit's second most famous business – rapper Eminem – shook up the local journalism world a bit by snubbing hundreds of media supplicants and granting a rare interview to East Hills Middle School eighth-grader Annie Reed. Reed, who had pursued the interview at the urging of her newspaper instructor,  talked to the 38-year-old rapper for about 10 minutes. The word "cool" was apparently used several times. The Detroit Free Press story is more about how Reed got the audience with Eminem than about what was said on the phone. It's an uplifting tale and the photo is great. Lose Yourself.
---
"Launch glitches" will keep Rupert Murdoch's tablet-only Daily free for at least several more weeks, according to Publisher Greg Clayman. Users have been reporting frequent crashes and freezes, which Clayman said is not surprising for a digital news publication that sometimes exceeds 100 pages per day. While people we know who have tried the Daily mainly dismiss it as gossipy fluff, Clayman says subscriptions are running ahead of plan, although he wouldn't be more specific
---
The quarterly earnings season is upon us, and newspaper publishers are reporting better results, but not on the print side. The Washington Post Co. earned $11.59 a share in the quarter, which is nearly $3 dollars better than analyst consensus estimates.  However, print advertising revenue dropped 12%, continuing the ugly trend of the last five years. The good news: online revenues were up substantially.
A.H. Belo Corp., which publishes the Dallas Morning News and Providence Journal, among others, lost $119.5 million, or $5.65 per share, during the final quarter of 2010. That's way down from earnings of $5.6 million, or 27 cents per share, in the same period the previous year. However, a large charge to cover pension expenses responsible for much of the drop. Revenue was down about 4%.
Gannett reported a fourth-quarter profit increase of 30%, largely due to cost-cutting and strength in its broadcast division. However, advertising revenue on the publishing side dropped nearly 6% and circulation revenue was down 4%.
And Finally…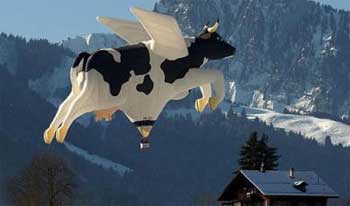 Thanks to Legends and Rumors for calling out this correction from The New York Times, which we publish in its entirety:
An article on Jan. 16 about drilling for oil off the coast of Angola erroneously reported a story about cows falling from planes, as an example of risks in any engineering endeavor. No cows, smuggled or otherwise, ever fell from a plane into a Japanese fishing rig. The story is an urban legend, and versions of it have been reported in Scotland, Germany, Russia and other locations.
Comments
comments
This entry was posted on Friday, February 25th, 2011 at 1:54 pm and is filed under Fake News. You can follow any responses to this entry through the RSS 2.0 feed. Both comments and pings are currently closed.